Skid plate for Honda NC700SD 2012-2014
Albania

Andorra

Angola

Argentina

Armenia

Australia

Austria

Azerbaijan

Belgium

Bosnia and Herzegovina

Brazil

Brunei

Bulgaria

Cambodia

Canada

Cayman Islands

Chile

China

Colombia

Croatia

Cyprus

Czech Republic

Denmark

Ecuador

Estonia

Finland

France

French Polynesia

Georgia

Germany

Ghana

Gibraltar

Greece

Greenland

HongKong

Hungary

Iceland

Indonesia

Ireland

Italy

Japan

Kazakhstan

Kuwait

Latvia

Lebanon

Libya

Liechtenstein

Lithuania

Luxemburg

Macau

Macedonia

Malaysia

Malta

Martinique

Mauritius

Mexico

Moldova

Monaco

Mongolia

Montenegro

Netherlands

New Zealand

Norway

Oman

Peru

Philippines

Poland

Portugal

Puerto Rico

Qatar

Reunion Island

Romania

Rwanda

Saudi Arabia

Serbia

Singapore

Slovakia

Slovenia

South Africa

South Korea

Spain

Sri Lanka

Sweden

Switzerland

Syria

Taiwan

Thailand

Turkey

Uganda

United Arab Emirates

United Kingdom

United States

Venezuela

Vietnam
Product specifications:
Skid plate for Honda NC700SD 2012-2014
| | |
| --- | --- |
| Model | NC700SD |
| Year | 2012-2014 |
| Coating | Powder paint |
| Color | Black |
| Material | Stainless Steel, Aluminium |
| Sheet metal thickness, mm | 4 |
| Attachment Point, pcs | 4 |
| Supply kit | Skid plate, sliders (l+r), mounting kit |
Feedback and questions:
Skid plate for Honda NC700SD 2012-2014
Only users who already bought the product can add review.
No reviews for the product
Honda NC700SD 2012-2014 
Skid plate
The skid plate is designed with all the geometric features of the motorcycle in mind to keep the vital components of your motorcycle safe under the most severe conditions. The unique shape of the skid plate protects the crankcase and partially exhaust system, making you ready for any type of road. The presence of ventilation holes improves engine cooling and makes the skid plate light enough. The installation of this accessory does not require intervention in the design of the motorcycle.
Attention to details
The joints of all protection elements are covered with special sealant and fastened with reinforced rivets. The thickness of the active part of the protection is made of 4 mm aluminum sheet, and the side parts are made of stainless steel or cold rolled steel coated with a polymer coating.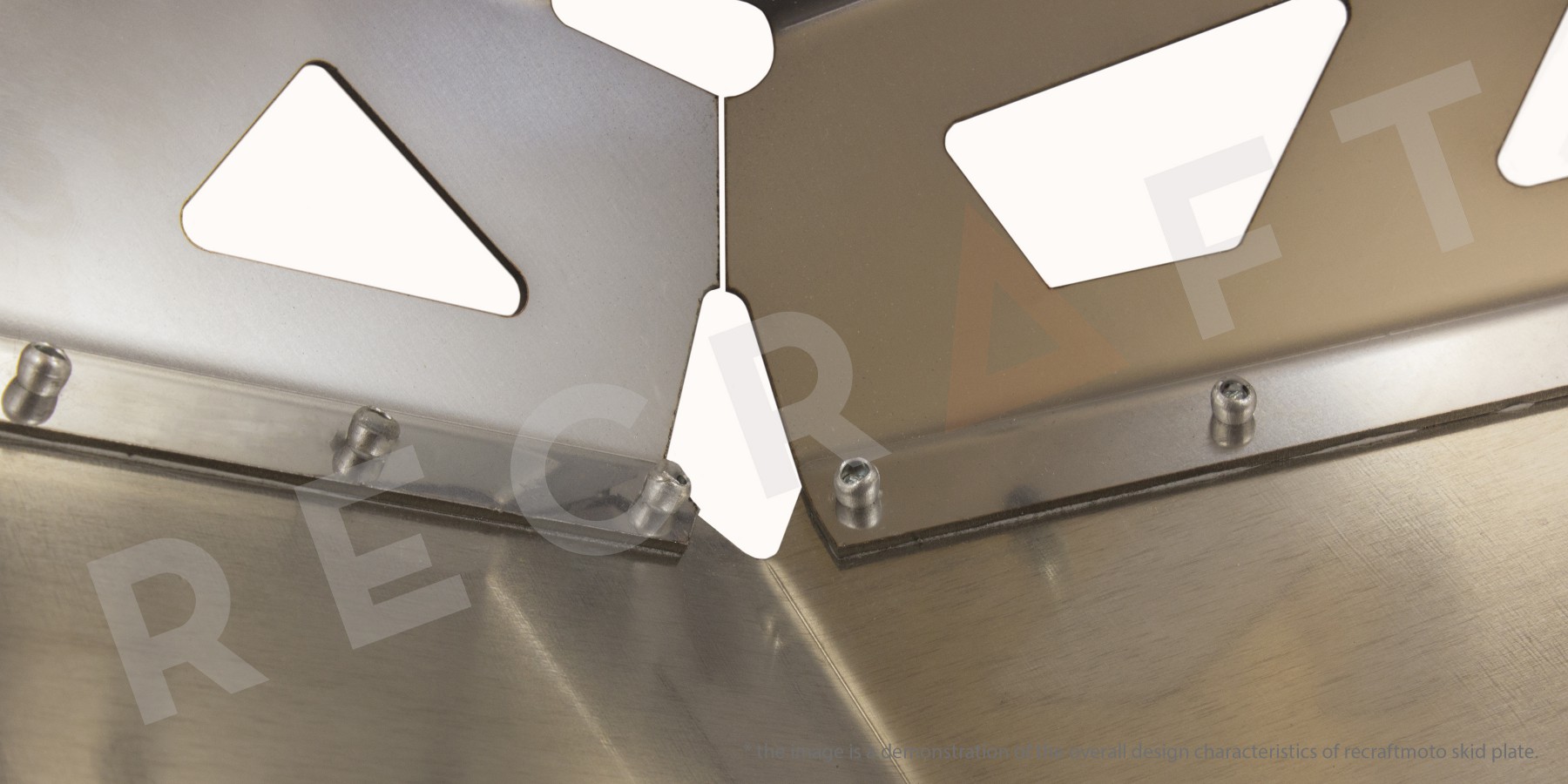 Sliders
Sliders minimize damage to the driver's footboards and engine side covers. They are made on a thermoplastic machine from high impact plastic.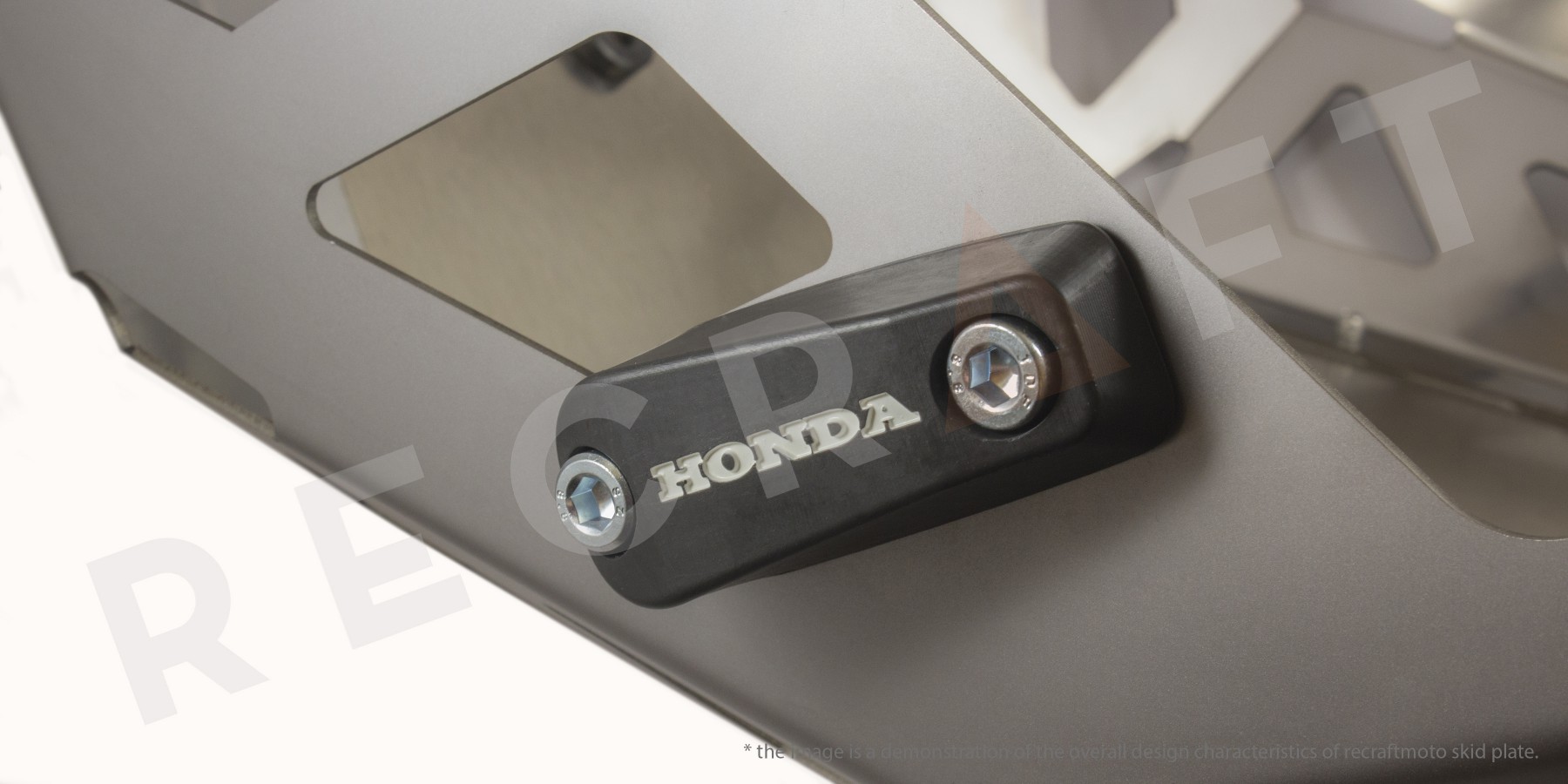 Processing and stamping
For the manufacture of elements of skid plates for a motorcycle used laser cutting and machine tools with software control. The use of high-tech equipment provides the best precision fitting of all elements for joints.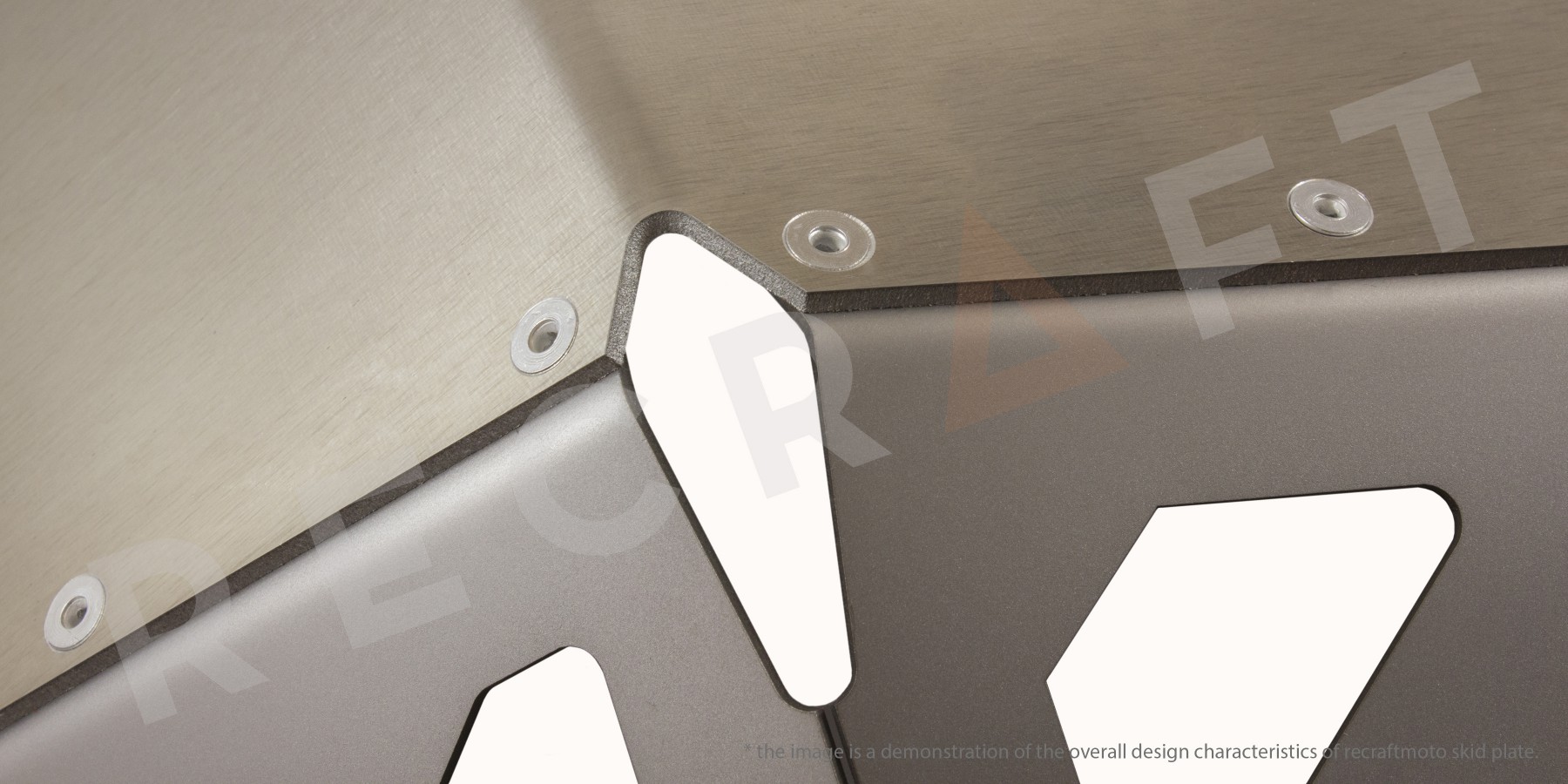 Coating
High-strength polymer matte coating provides increased resistance to chips and scratches. Through magnetic interaction, particles of the coloring powder are applied to the surface of the product to be painted. Then the product is moved to a special thermal chamber in which the air is evenly heated to a temperature of about 200 ° C. The powder melts and forms a seamless monolithic polymer coating on the entire painted surface of the product.
Galvanized mounting elements
Mounting elements are coated with a layer of zinc to protect against corrosion, improve exploitative and decorative properties. Galvanizing is carried out on special technological lines.